Description
ZTE GPON ONT ZXHN F668 Fiber Router with TV Interface
ZTE ZXHN F668 FTTH  is a GPON Optical Network Terminal designed for FTTH scenario. This model offers 4 Ge Port 2 Voice Port WiFi CATV and 1 USB Port. The F668 features high-performance forwarding capabilities to ensure excellent experience with VoIP, Internet and HD video services.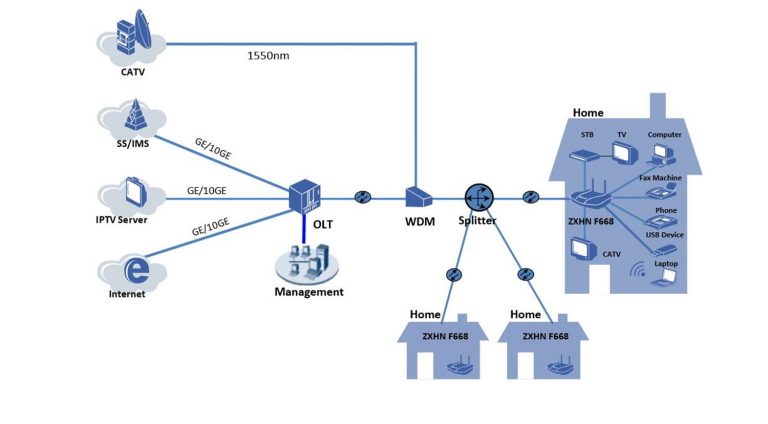 ZTE ZXHN F668 FTTH Product Overview
ZTE F668 FTTH is a GPON Optical Network Terminal designed for FTTH scenario. It provides subscribers rich, Colourful, individualized, convenient and comfortable triple-play services including voice, video (IPTV/CATV) and high-speed internet access. it supports desktop mounting, wall mounting and network cabinet mounting. The ZXHN F668 complies with the ITU-T G.984 standard, provides 2.488 Gbps downlink and 1.244 Gbps uplink at the network side, and provides four GE ports, two POTS ports, one 802.11b/g/n(2*2 @2.4G Hz) Wi-Fi interface, one USB interface, and one RF interface at the user side. Home users can easily access voice services, video services, CATV service and many other kinds of high-speed broadband services by the ZXHN F668's rich interfaces.
High Reliability
The full-service access capability featuring high bandwidth, high performance, high reliability, and easy operation, administration and maintenance (OAM) meets the continuously changing requirements of the customer, protects the legacy investment, and enhances the value of the operator's network.
Rich Interfaces at Users Side
It Provides four GE ports, two POTS ports, one 802.11b/g/n(2*2 @2.4G Hz) Wi-Fi interface, one USB interface, and one RF interface at user side to meet the needs of  multiple terminal equipment access 。Users can access the PC, IPTV STB, Tablet PC, SmartPhone, phone, fax and other terminal equipment based on personal preferences, to fully enjoy all kinds of Internet services
Convenient and Secure Wi-Fi Access
Users can build a convenient and secure wireless LAN, and access the Internet flexibly and reliably 。Complies with the IEEE802.11b/g/n(2*2 @2.4GHz) standard, provides high-speed Wi-Fi access function 。Supports shared key authentication, WEP authentication, WPA-PSK, WPA2-PSK, and both mixed-mode security authentication, and ensure safe and reliable home Wi-Fi access
WARRANTY:
(BRAND NEW with 01 WEEK CHECKING Warranty)