Description
LOGITECH K480 BLUETOOTH MULTI-DEVICE KEYBOARD
Switch Typing between your Computer, Phone and Tablet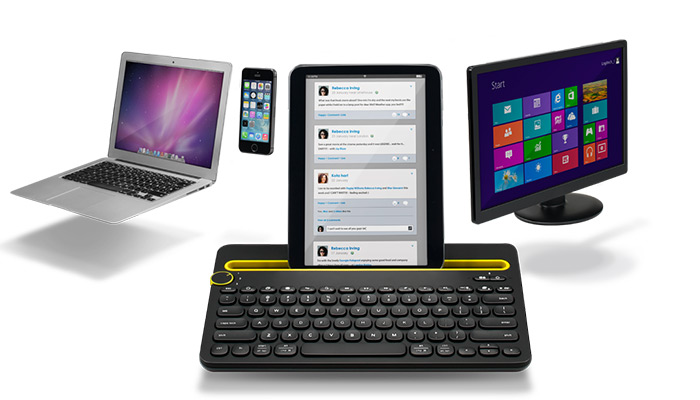 K480 is a comfortable and space-saving multi-device keyboard that brings better typing to your laptop, tablet or phone. With impressive durability and long battery life, this tightly designed is what everyone needs to multi-task and get more done (from anywhere).
MODERN AND MULTI-DEVICE
K480 is a comfortable and space-saving multi-device keyboard that brings better typing to your laptop, tablet or phone. Pair up to 3 devices and seamlessly switch typing between them. Highly durable and with long battery life, this tightly designed, multi-tasking keyboard is what everyone needs to get more done from anywhere.

COMFORTABLE AND COMPACT
This minimalist layout features all the keys you need in a space-saving design—plus it lets you place your mouse closer to you, which means less arm reaching, more comfort, and better body posture. The scooped keys offer a fluid, comfortable typing experience.
EASY TO CARRY
It's thin, lightweight, and easy to take wherever you need to be. K480 with Bluetooth® wireless technology lets you type on your laptop, phone or tablet—with no wires or cables necessary, so you can get work done anywhere.
TYPE ON ANY DEVICE
Any device, any OS. The K480 connects to any Bluetooth-enabled device with external keyboard support, so you can work seamlessly with Windows®, macOS, Chrome OS™, Android™, iOS and iPadOS.
DIAL AND SWITCH
K480 Multi-Device lets you pair with up to three devices and easily switch connections between them. All it takes is a turn of the dial to type, switch, and keep on typing.
VIEW AND TYPE
The built-in phone and tablet cradle keeps your screen at just the right angle so you can view while you type. Fits most phones and tablets up to 10.5 mm thick and 258 mm wide.
BUILT TO KEEP GOING
K480 is built with the same high quality and reliability standards that have made Logitech the #1 global leader for mice and keyboards.3Based on independent sales data (in units) aggregated for Logitech mice and keyboards from major global markets including Canada, China, France, Germany, Indonesia, Republic of Korea, Russian Federation, Sweden, Taiwan, Turkey, UK, US (July '19 – July '20 period). Retail channel only. Up to 24 months of battery life4Battery life may vary based on use and computing conditions. eliminates the hassle of frequent battery changes, with a handy on/off switch and power-saving technology that preserve battery life. K480 is also spill-resistant5Tested under limited conditions (maximum of 60 ml liquid spillage). Do not immerse the keyboard in liquid. to survive small accidents.
Specs & Details: